Documentation, Interpretation and Digital Presentation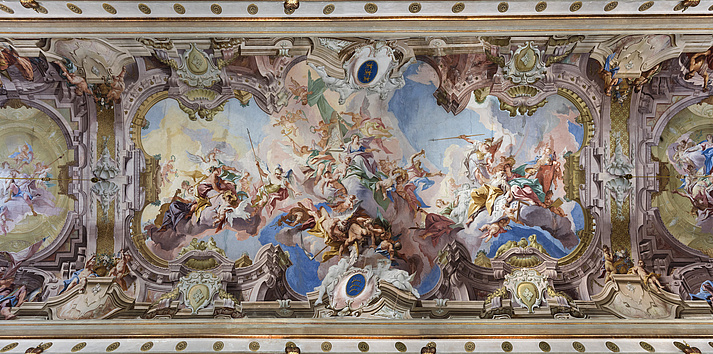 The Corpus of Baroque Ceiling painting in Germany (CbDD) wants to document and research the art of mural painting in Early Modern Europe, with a focus on monuments in Germany. The aim is to broaden knowledge and promote understanding of this special field of pictorial art, which flourished throughout Europe in the Pre-modern Era. The major objectives of this research project are:
The systematic appraisal and documentation of Baroque ceiling and wall decorations within their architectural, historical, iconographical and thematic context, based on archival sources, visual and textual documentation, new digital and historical photography, and plan material available.
The analysis and interpretation of these art monuments in a historical and interdisciplinary perspective, within the broader context of art patronage in Early Modern Europe. Overarching themes like these can cover the international networks of patrons and artist, the rank and social status of patrons within and beyond the Holy Roman Empire, the impact of politics and confessions, the transfer and innovation of artistic knowledge across Europe, or the creation of new techniques in the Early Modern era.
The development of an innovative, interactive, digital Internet platform to present the research results online in an open access database. Conference papers or special editions of new material published in the corpus will be made available in a print-on-demand format.
The new corpus project will approach the study of the monuments of Baroque wall and ceiling painting in Germany typologically, rather than topographically. The material will be organized in typological sections according to the historical, cultural and social networks within the political landscape of the Holy Roman Empire and beyond. The methodological structure of the corpus thus refers to the multifaceted cultural and political ties of patrons and painters across borders and across time in the Early Modern period.
Early modern courts and the church as patrons of the arts
The world of the early modern courts and their networks across Europe was a fertile ground for the blossoming of the art of mural painting. This international system of reference was of major relevance for the visual culture of the cities, and the art patronage of citizens, patricians and the nobility. The church was the other major player in this competitive system and established another sophisticated network of artistic patronage in Early Modern Europe.
Four Modules of the Corpus of Baroque Ceiling Painting in Germany
The new corpus project is organized along the outlines of this cultural and political reference system. Four modular entities will follow this structure in chronological order: