deckenmalerei.eu
Where can you find Baroque ceiling paintings in a nearby castle? How can they be researched using the latest digital tools?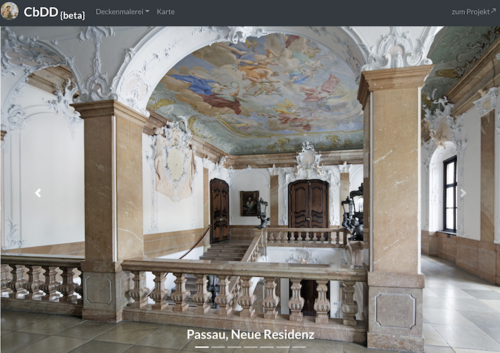 The digital publication platform of the Corpus of Baroque Ceiling Paintings in Germany provides answers to these questions. It was launched to the public in a beta version in 2020, coinciding with the publication of the volume. This platform comprehensively captures documents and explores ceiling paintings in the territory of the Federal Republic of Germany from 1550 to 1800 through high-resolution digital photographs and scholarly texts. The paintings that are currently on display in museums represent only a portion of the ceiling paintings.
A multitude of works, on the other hand, can still be seen in the places where they were created. Germany's rich landscape of castles offers a wealth of well-known works of wall and ceiling painting, as well as many works waiting to be discovered. The publication database also serves as a virtual museum of architecture-bound paintings in the Federal Republic, inviting exploration, discovery, and visits to this outstanding cultural heritage. This rich treasury, illustrated with high-resolution photographs and growing day by day, is open to all interested individuals.
Publication Database: www.deckenmalerei.eu